"Sticks and stones may break my bones, but words will never hurt me."
The old adage is a response to verbal bullying in school playgrounds in the 1860s. It originates from a children's rhyme to persuade child victim of name-calling and verbal abuse to ignore the taunt. However, words do hurt. With the surge of the digital age, internet bullies hide behind the luxury of anonymity and bash out mean things without thinking about the effect it has on the receiver.
Before writing any further, if you are a victim of serious cyber-bullying and are being pushed to the edge of your sanity, please visit this website immediately and seek help.
xxxxxxxxx
In their efforts to strengthen Cybersafe Initiative, Digi organized an "US vs. Cyber-bullying" event, partnering with MBPJ, MCMC, Generasi Gemilang, Unicef, PDRM, CyberSecurity, Protect & Save the Children, Women:Girls, and Childline.
Where was it held: PJ Boulevard (Next to Menara MBPJ);   When was it held: 1st of October 2016 (Saturday), 10am – 5pm
Having helped MBPJ change from it's on-premise server to Google cloud platform (read about the press release here), G-Asiapacific participated in the event to support MBPJ and as a part of our Corporate Social Responsibility (CSR) of raising awareness in cyber-bullying and cyber security.
Meet the G-Asiapacific team!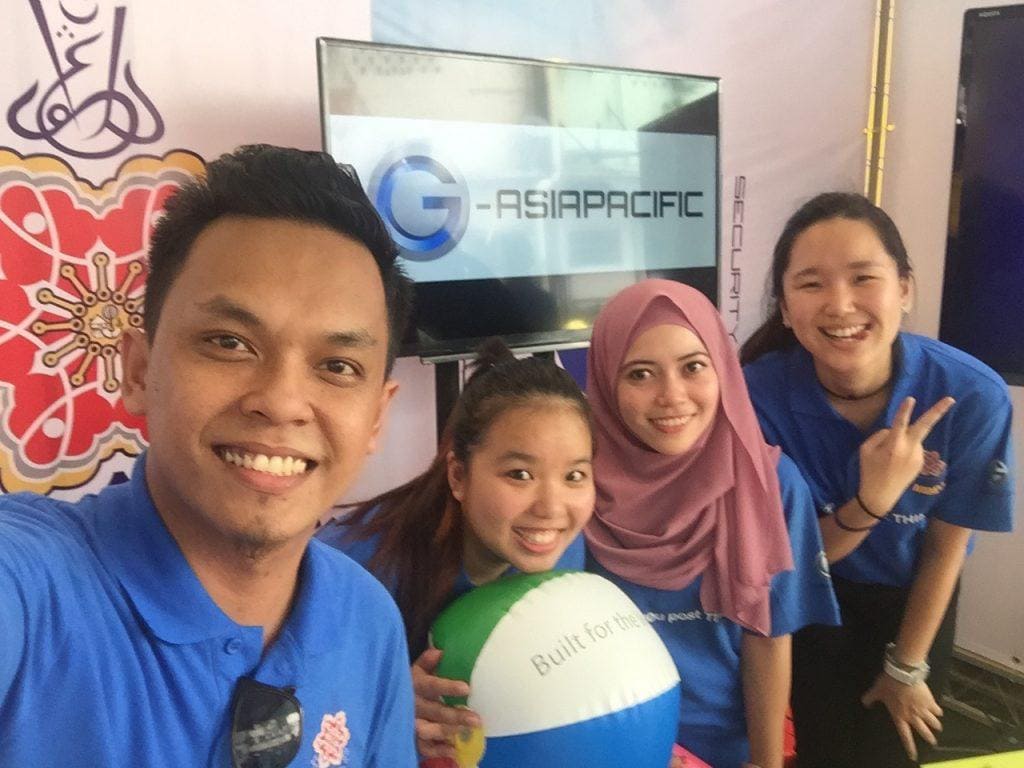 From left to right: Eddy, Jojo, Syikin and Sam (me! author of this post) in our booth (which includes both MBPJ and Kyrol Security Labs too)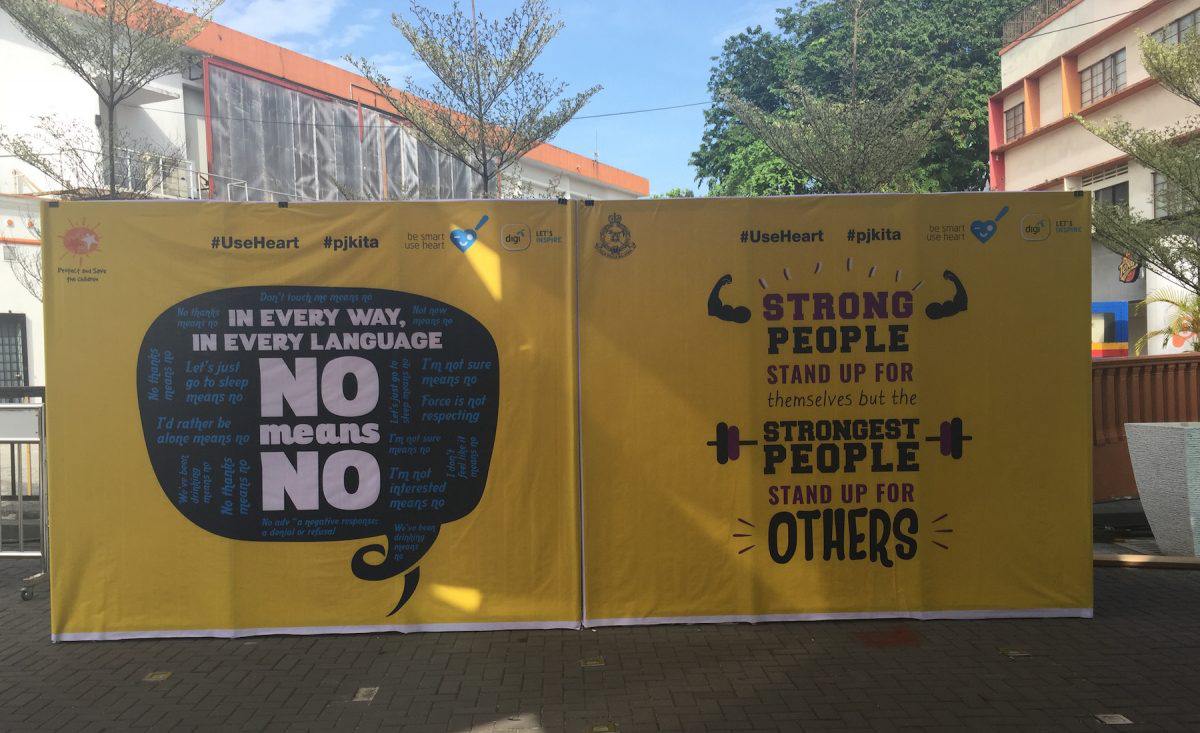 I arrived half an hour early to make sure our booth was ready. This is one of the many slogans erected throughout the venue:
"In every way; in every language, NO means NO"
"Strong People stand up for themselves but the Strongest People stand up for OTHERS"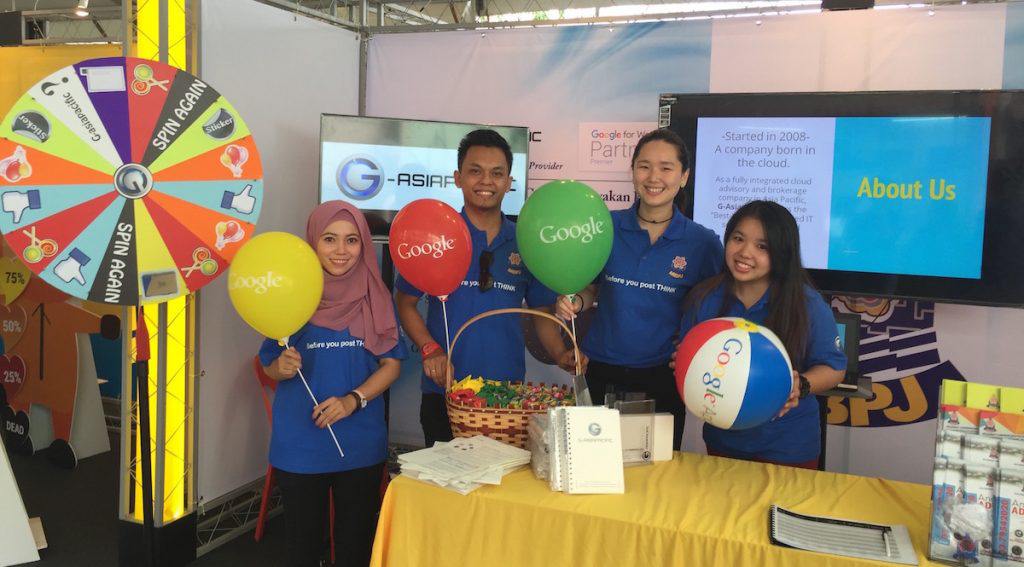 The view of our booth and our infamous Wheel of Fortune before the crowd comes in. I decided to take a quick stroll of the place with Syikin as my model/ photographer while Jojo and Eddy standby at the booth. Apart from Digi's signature yellow colour cheering up the venue, there are a couple of things that caught my eye.
This Bus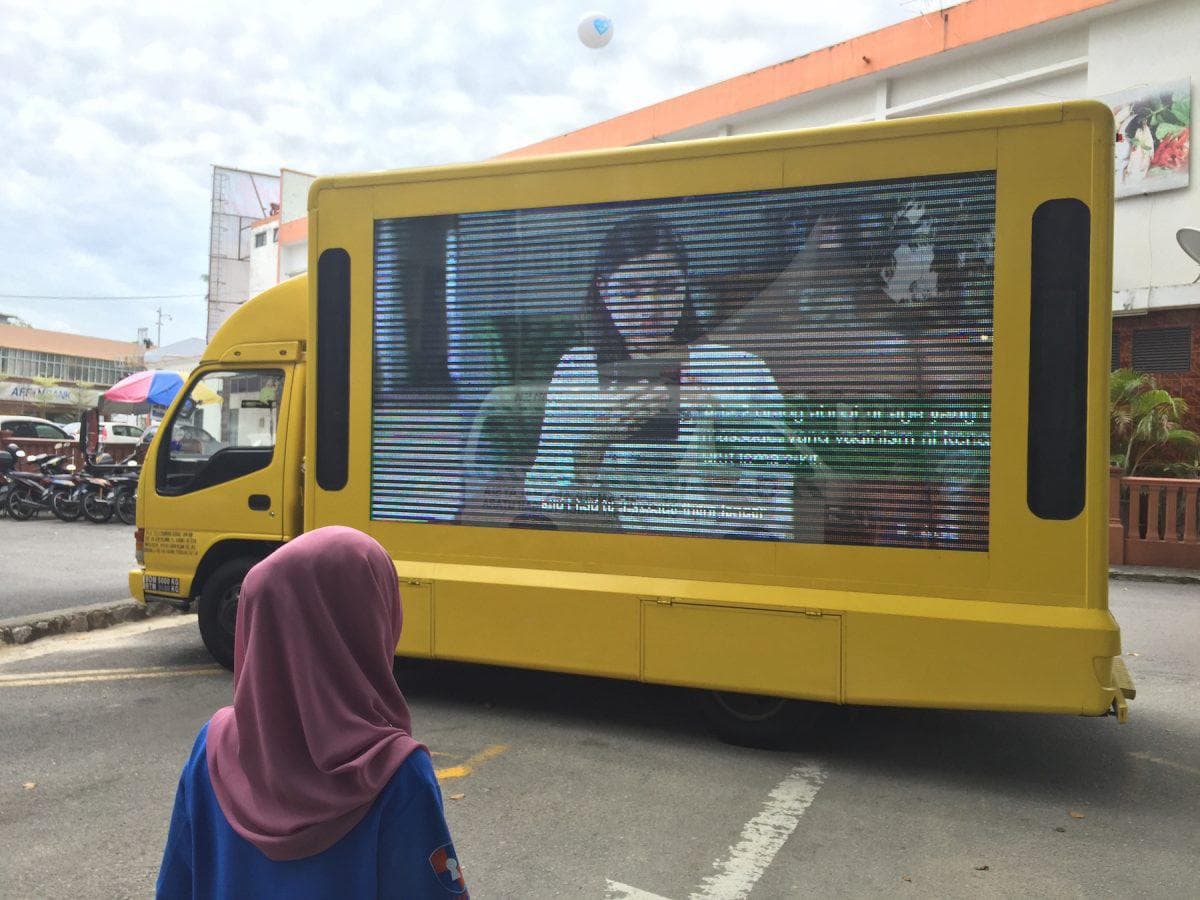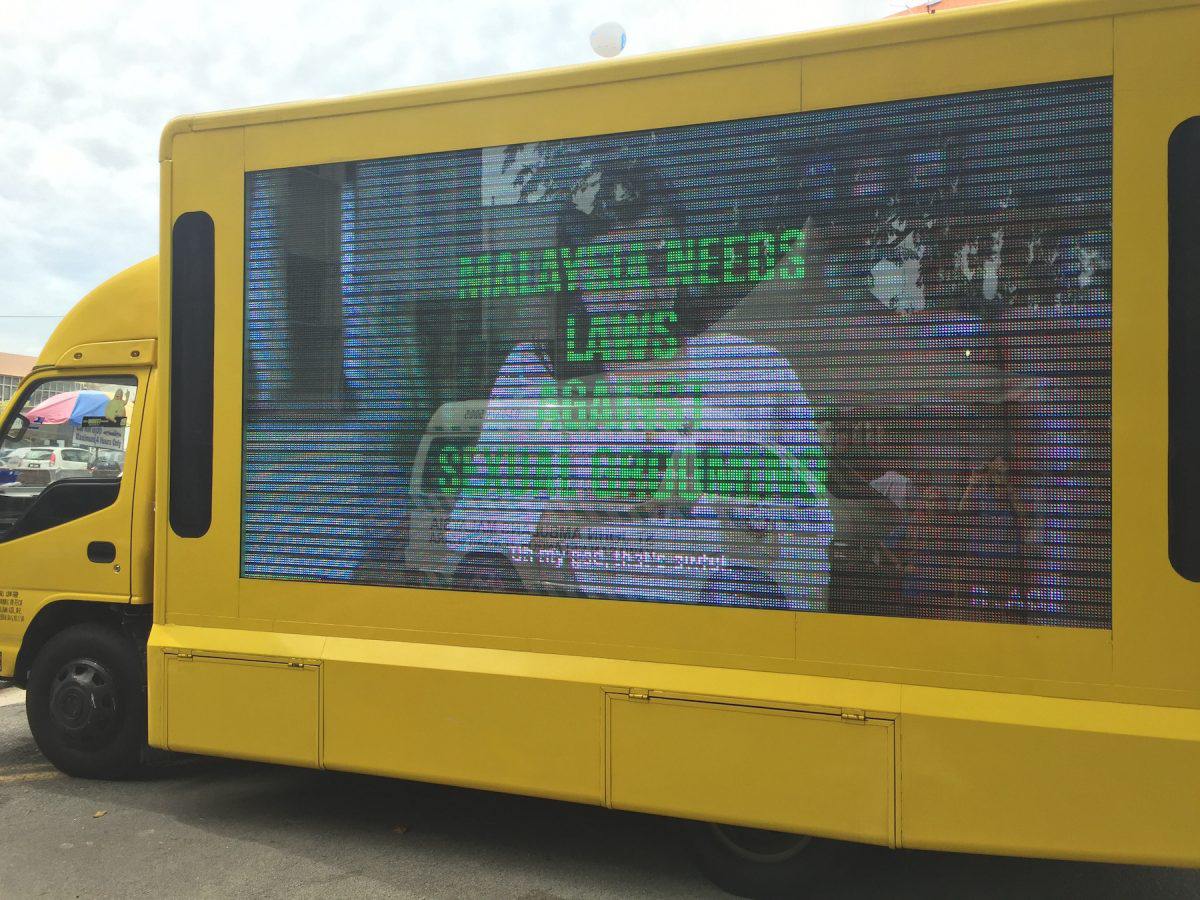 The bus shows videos (clearer than captured by my phone) of women who are victims of sexual cyber-bullying. The lady shown on the screen is describing her encounters when falling victim to sexual harassment through instant messaging. Syikin and I stood there for a couple of minutes to listen to her experience. The messages weren't pleasant. "Malaysia needs laws against sexual grooming"
Moving on, there's the "I <3 PJ sign.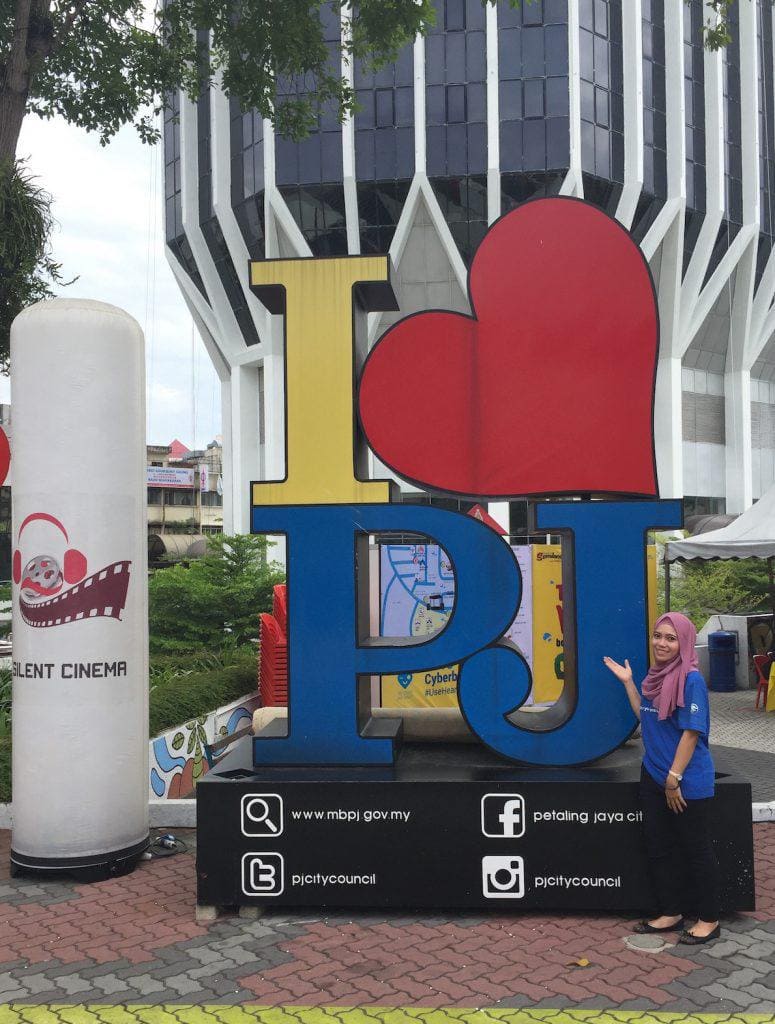 Another slogan board: "Be sure to taste your words before you spit them out online".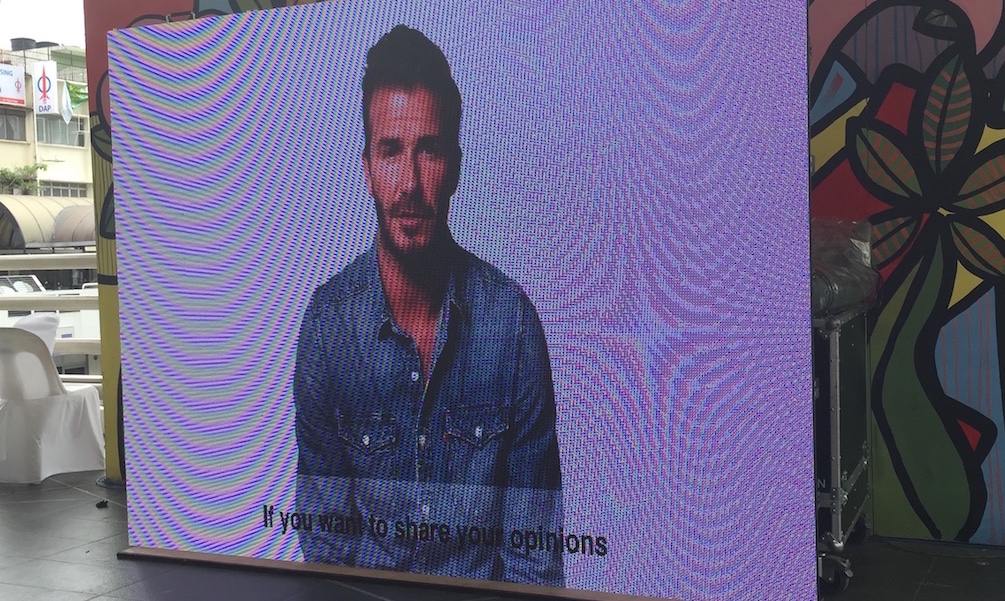 A video of David Beckham talking about cyber-bullying.
In November 2010, David Beckham partnered with Facebook to combat online bullying, urging fans to like the page for Facebook Safety.
"Hi everyone, this week, Facebook are launching an important campaign to combat online bullying. I want to add my support to this, as bullying in any form is unacceptable. […]" wrote Beckham on own his Facebook page 6 years ago.
Food truck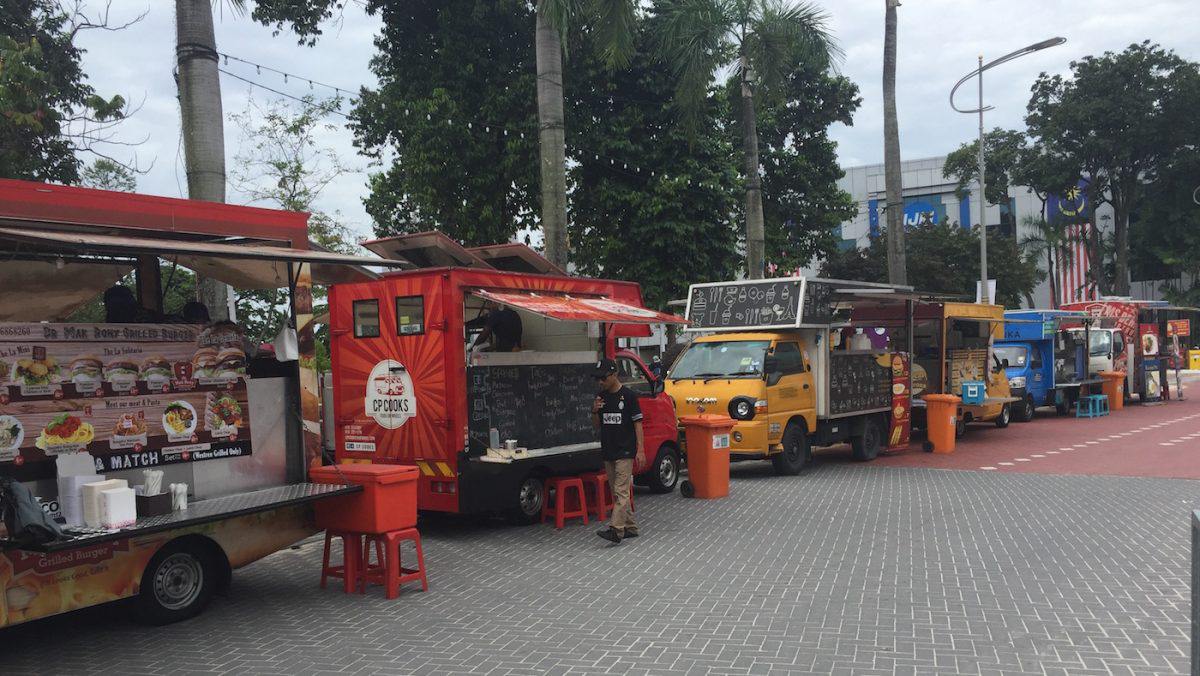 Electronic Scooter Ride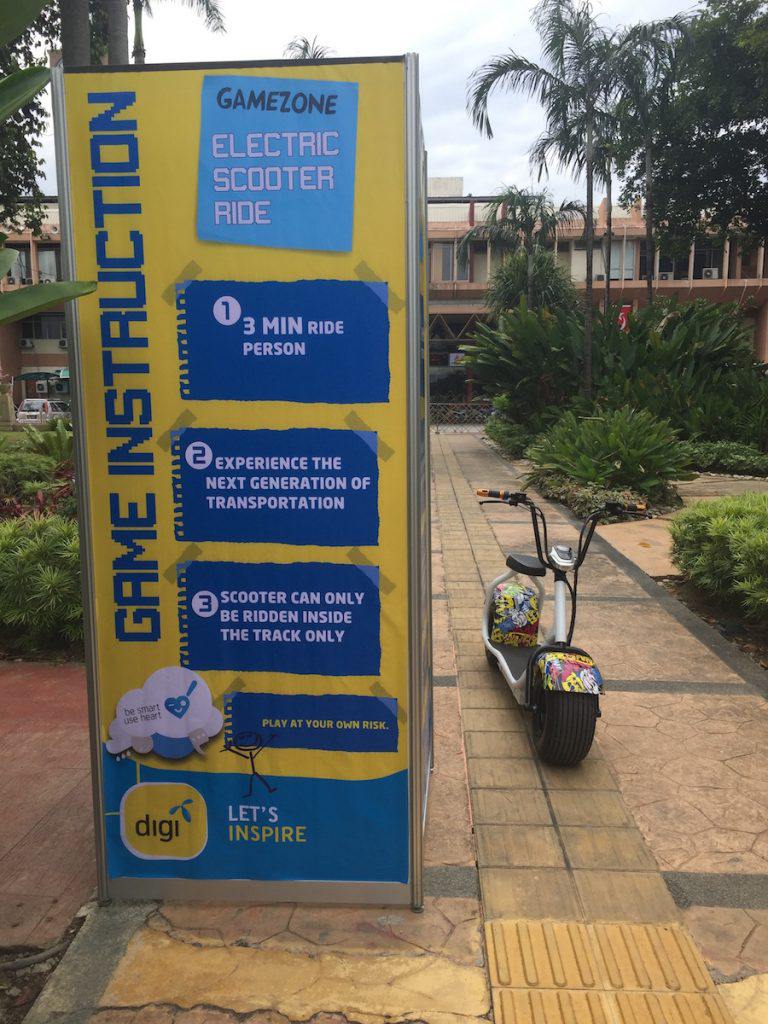 There were other fun activities like zip-lining and big bubbles (where children get to create big bubbles with bubble wands) etc. Although it seems like these activities have nothing to do with cyber-bullying, it shows how much effort Digi and the partners put into creating an exciting and children-friendly environment to raise awareness on cyber-bullying.
xxxxxxxxxx
12:30pm marks the opening ceremony. The Mayor of Petaling Jaya (or Datuk Bandar) Mohd Azizi Mohd Zain talks about the importance of the collaboration amongst partners to raise awareness of cyber-bullying and how to combat it.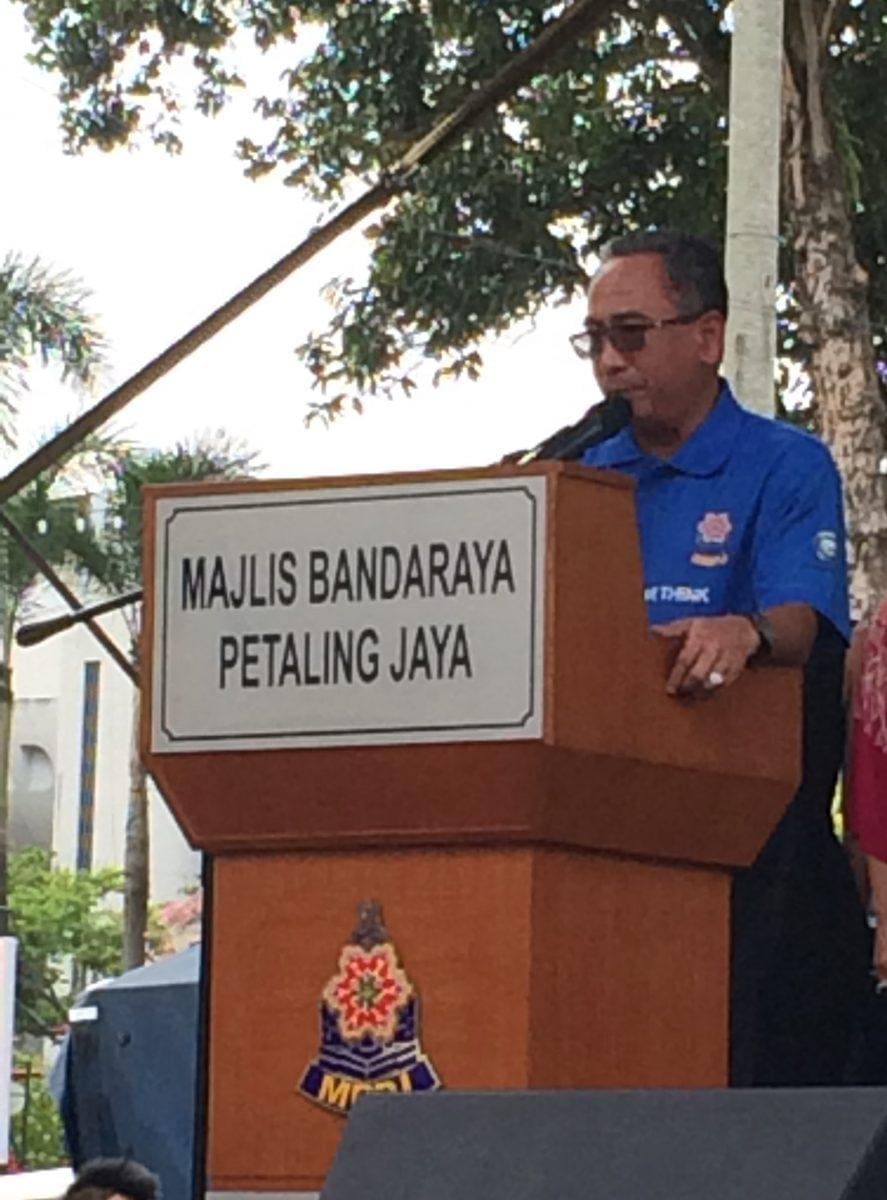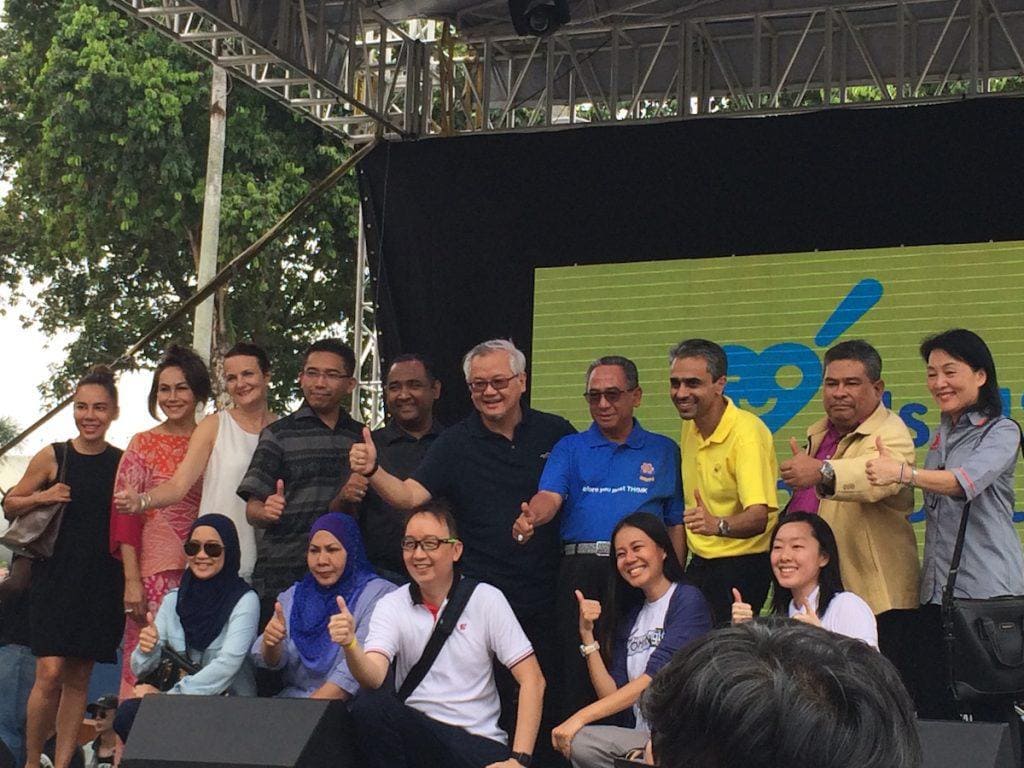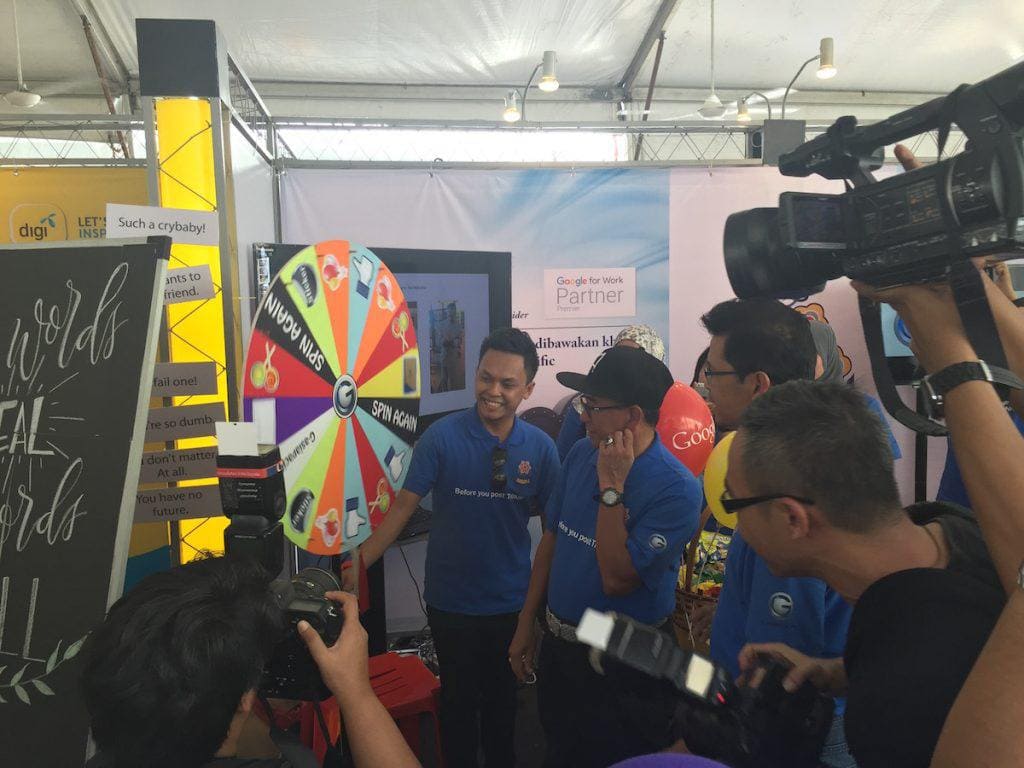 All the partners involved in raising cyber-bullying awareness.
After the opening ceremony, the Mayor came over to check out the activities run by each booths. Needless to say, the crowd followed wherever he went.
He took an interest in our Wheel of Fortune~
Look at all the smiles~ Eddy on the left, En. Samsul (IT Director of MBPJ) on the right and the Mayor in the middle.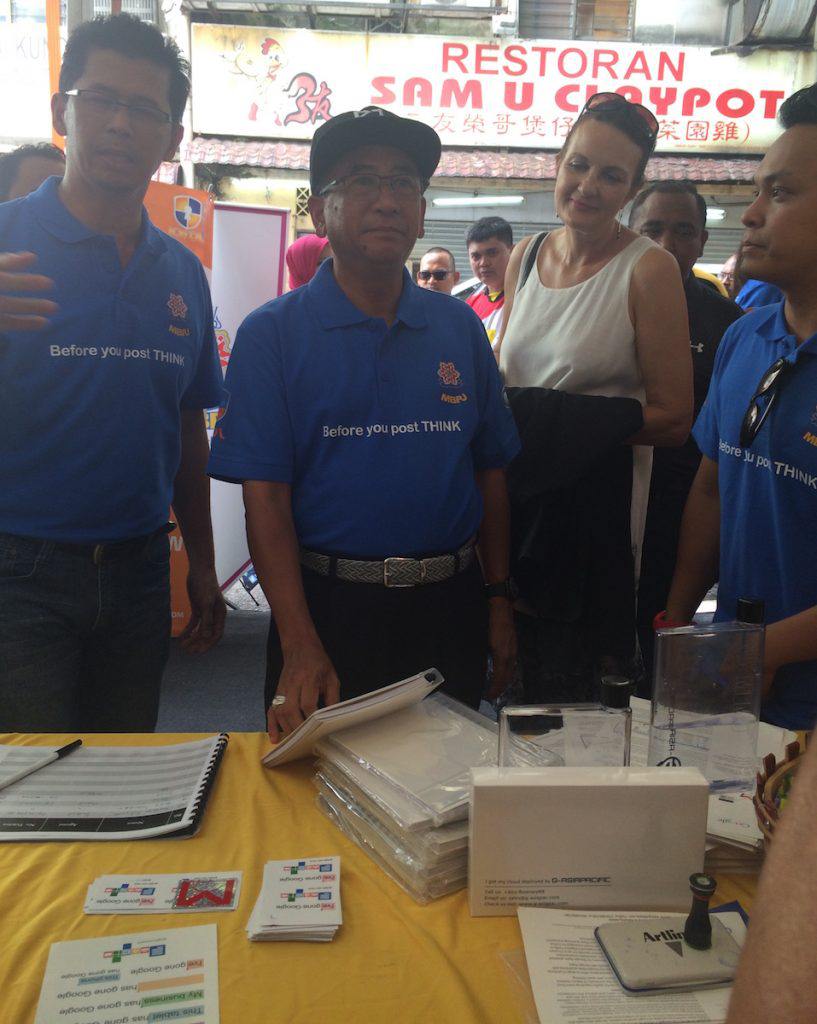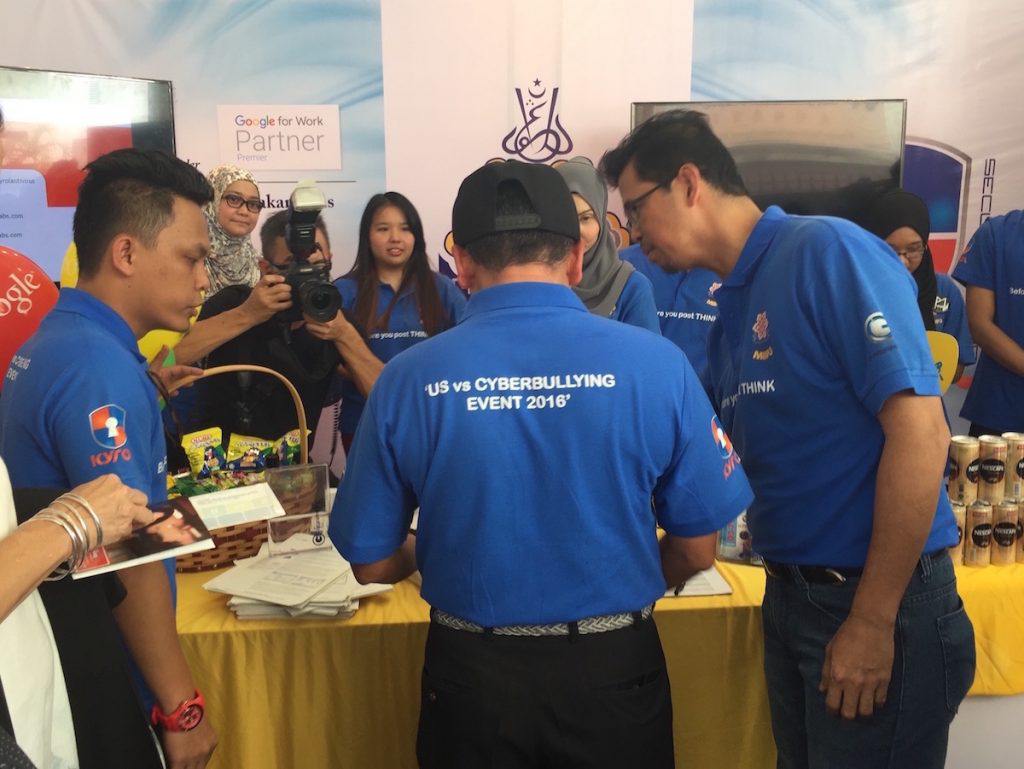 After Mayor left and the hype died down, I decided to check out the rest of the activities. There was a laser tag arena for kids, VR booths, arcade style driving section (I have no idea what they're called), video games sections and respective partner's booths that have various activities for youngsters.
xxxxxxxxxx
After a day spent at this event, meeting and talking to the people who came for the event, i realised that many people don't even know what cyberbullying is. There is the case of David Molak, a victim of cyberbullying who took his own life earlier this year; his brother wrote the following extract:
'In today's age, bullies don't push you into lockers, they don't tell their victims to meet them behind the school's dumpster after class, they cower behind user names and fake profiles from miles away constantly berating and abusing good, innocent people,'
The digital age has arrived and it is up to us, as adults, as parents, as teenagers to educate ourselves and the young ones of cyberbullying. Here are some links you might find useful:
Dos and Don'ts for cyberbullying victims
UNTIL NEXT TIME, WITH MUCH SUPPORT FROM US AT G-ASIAPACIFIC!