It was a Wednesday. Angelyn and I had just came from a meeting with AirAsia, and off we were to AACE (ever wondered what the acronym stands for? => Asian Aviation Centre of Excellence). Spacious space for future pilots and flight attendants to have their training. There was a swimming pool there as well, guess what's it for?
We got to the training room – Langkawi room – it was already filled with a good amount of AirAsia employees, eager to see what the could take away from this workshop. (spoiler alert: a lot!)
The CIO of AirAsia – Hogan Declan Laurence gave a short motivational speech to kickstart the workshop.

Then Ayaka led the session and started it by introducing today's workshop and the people who are here to help:
A quick intro on the workshop: AirAsia Transformation Workshop is a workshop to discover the manual or more traditional work process that can be digitalised with Google Apps for Work.
A quick intro of the people involved:
a. From G-Asiapacific: Sam Yeow (me/ Marketing Strategist) and Angelyn Tan (Corporate Account Manager) and Vincent Yong (Technical Specialist)
b. From Google: Ayaka Yamada (Change Manager), Kevin Trinh (SE Asia Strategic Account Manager) and Theo Lhomer (APAC Customer Success Engineer)
c. From AirAsia: Khor Siew Fei (Innovation Team), James Ng (IT team) and Hannah Wong
There are 4 sessions for this particular workshop: Inspire, Discover, Prototype, and Iterate.
Inspire
Always such a vital part, tangible, but so important.
Siew Fei asked the audience, why did we go Google?
Someone said, "'cuz Tony wants it."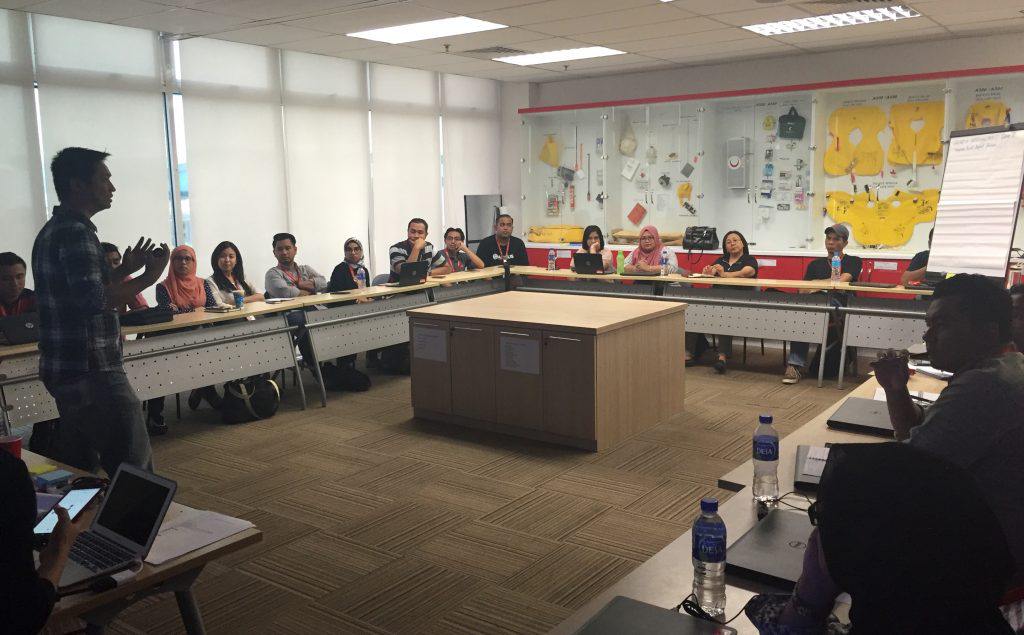 Now that's an easy answer. But Tan Sri Tony Fernandes, GCEO of AirAsia, had a vision went he chose to go Google:
To reduce cost, to drive innovation and to cultivate a collaborative culture. Fernandes seeks to move AirAsia to a digitized and be technology centric, to improve customer service by serving an end-to-end experience, and to create a more productive working culture.
Next, Angelyn showed some case studies and success stories in response to the problems highlighted from Siew Fei (who got these from respective HODs). There were a few questions raised from AA employees. For example, is Google Sheets able to do the same functions of Excel, like VLookUp and Pivot Charts; questions about segregating and/ or consolidating Google Forms with Google Sheets; questions about Google Sheets and the compatibility of Excel's Macro function.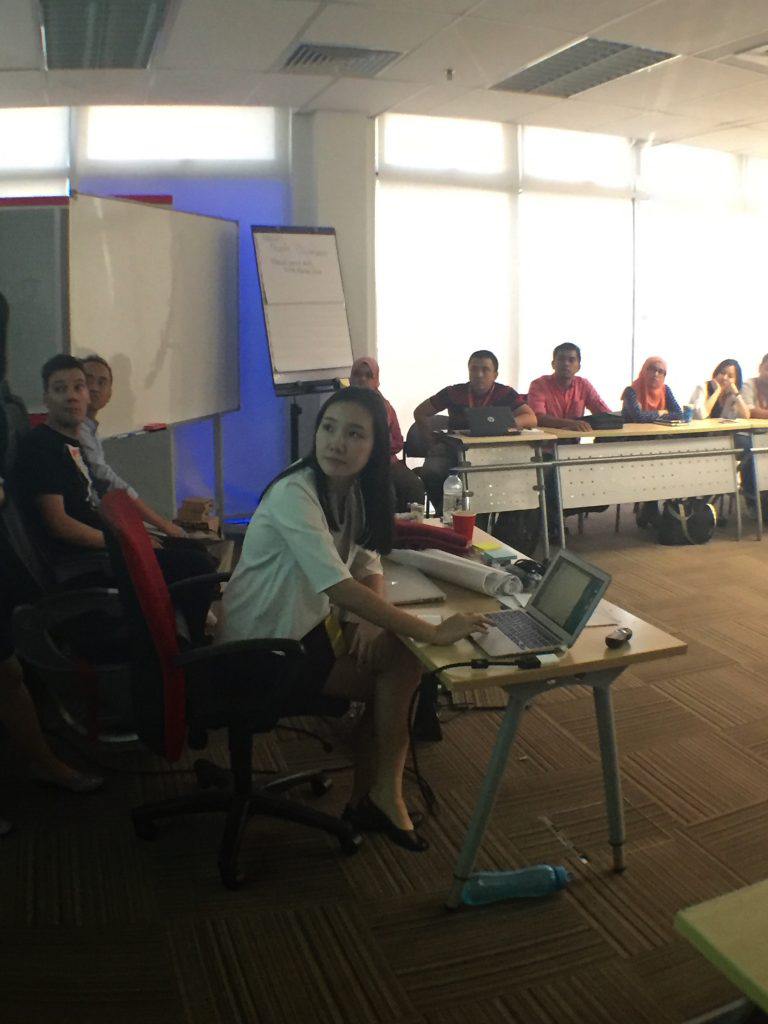 Discover
Next session is to discover: we have 4 groups (from different departments) present in the room; each group has their respective business processes, and the challenges that come with it.
Before having them note these workflows and challenges out, Ayaka asked them a very interesting question to set a positive mindset for the following activity: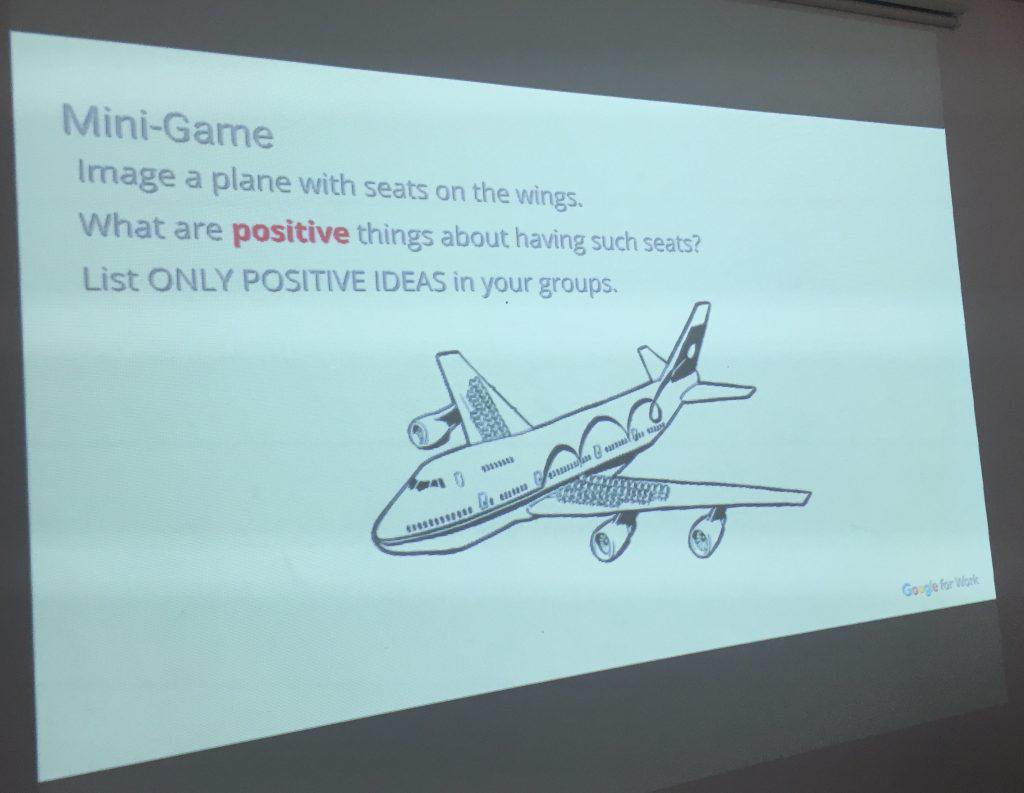 Answers came flowing in. Great scenery, no toilet queues, passengers get to touch the clouds, free fall, more income for AirAsia etc.. (comment below if you have other interesting answers!)
The groups started writing their challenges on sticky notes, posting them on white papers according to whether it is hard or easy to execute, and the impact they have on streamlining the business, whether it is high or low.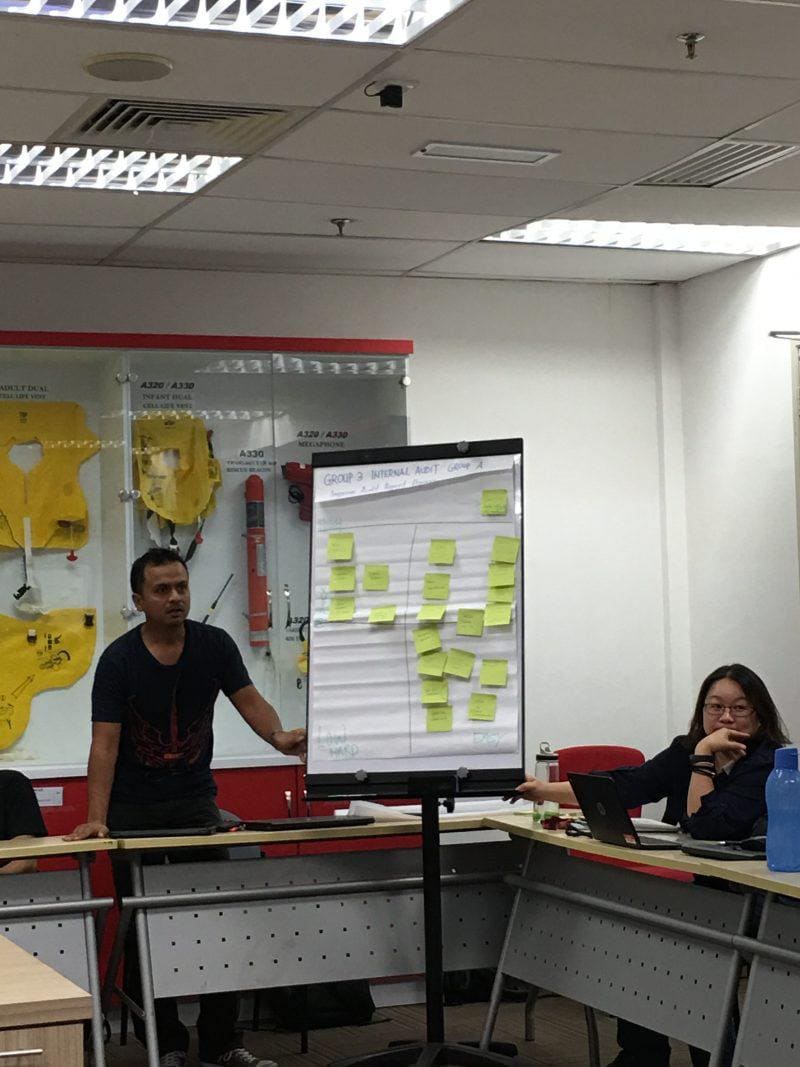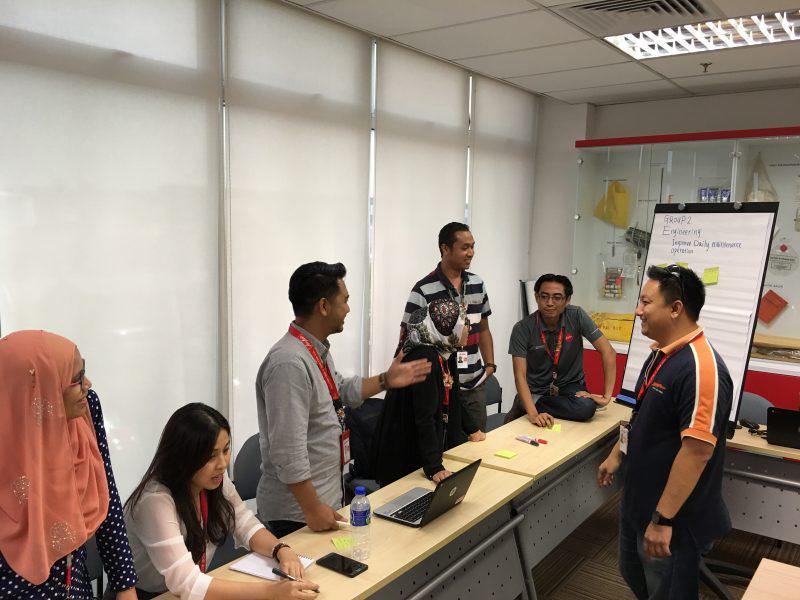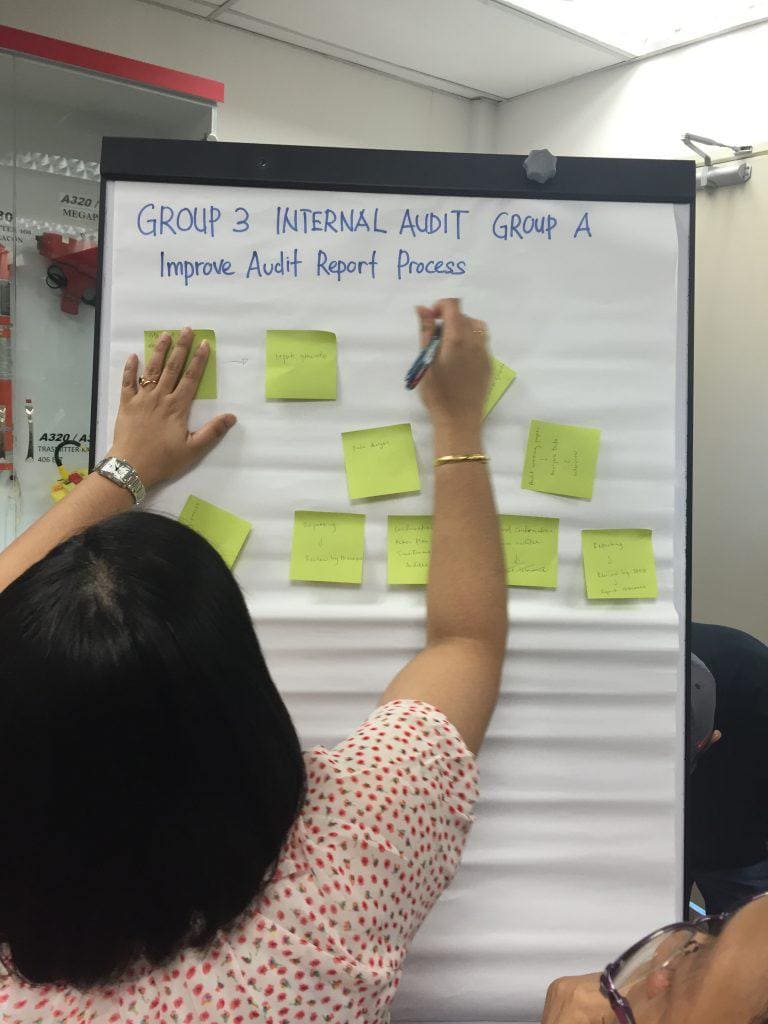 Prototype
Each group chose a particular set of challenges and come up with a modernized solution using Google Apps for Work. Three groups drew up the workflow process on the white paper, whilst one group straight went into work mode and came with a solution for their manual forms processing with Google Forms.
Each group had a representative to present their workflow prototype and explain it to the Googlers, Siew Fei and James, and us from G-Asiapac so we could come up with solutions after the workshop. (I mean, that's the whole point of this workshop wasn't it?)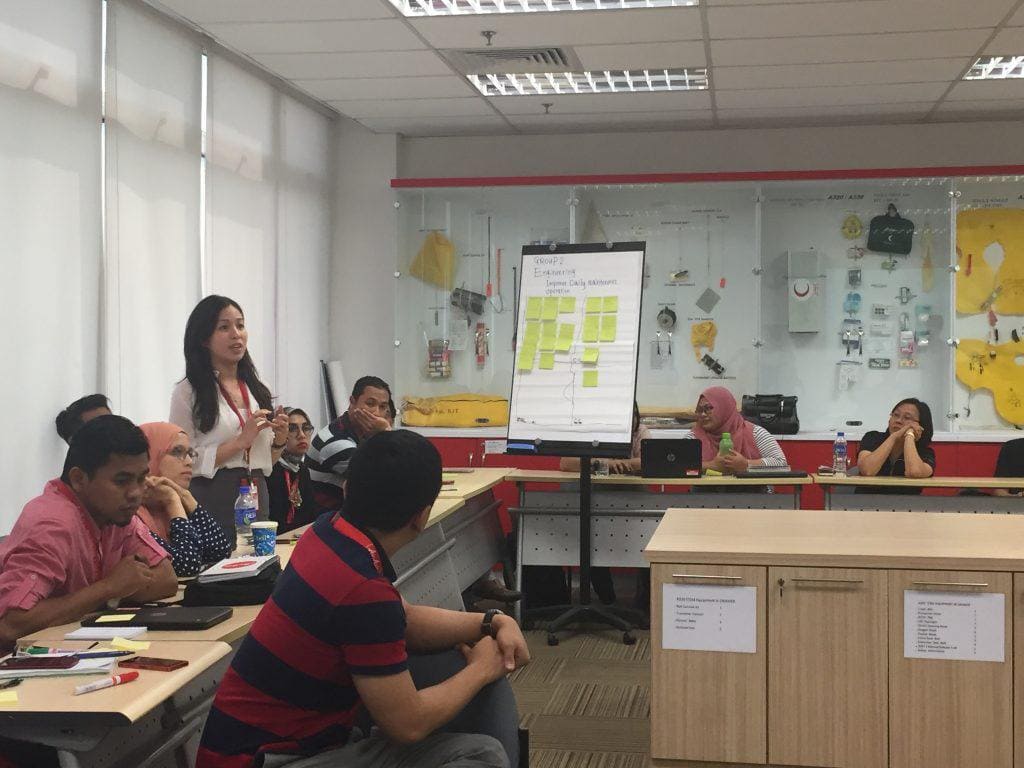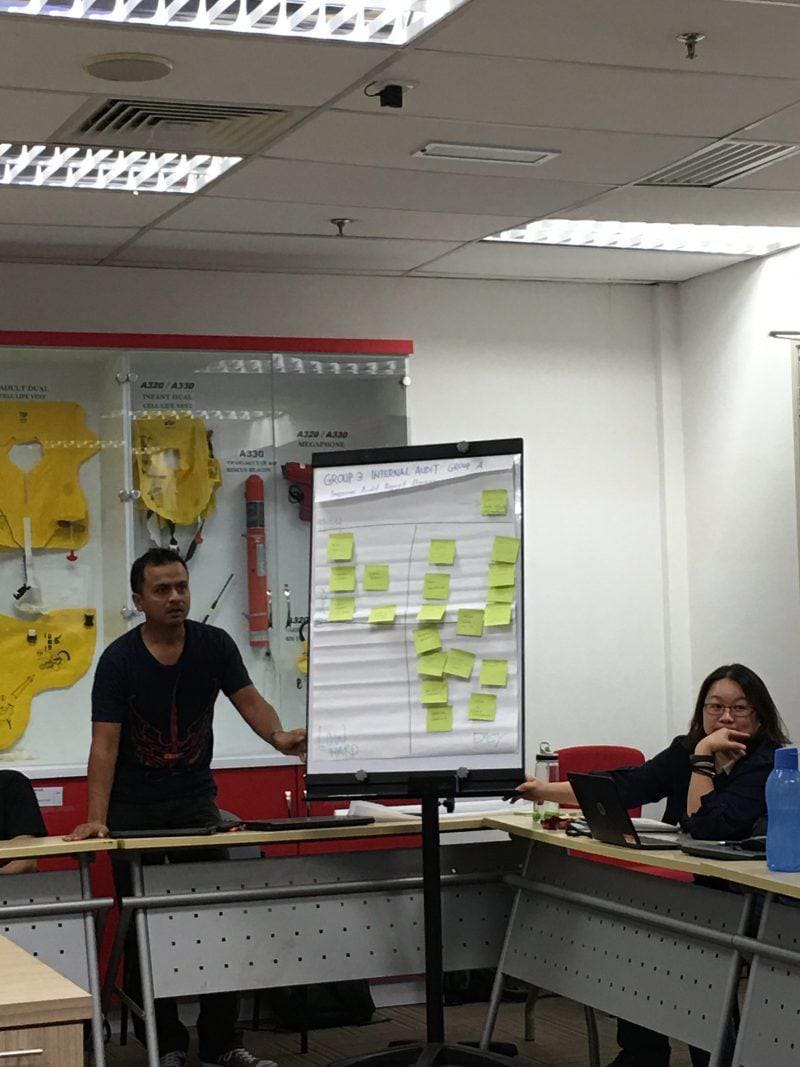 Iterate
This session is the shortest of the 4, basically to summarize the workshop and appoint one PIC from each group for follow-ups. G-Asiapacific team, Google team and AirAsia team are supporting by coming up with firm and solid solutions for the respective challenges the groups are facing, and will be in touch with the PICs a week after to implement the solutions.
All attendees are given a Google Cardboard as gifts of appreciation. We collected electronic feedback forms from them, using Google Forms of course, and that was the end of the workshop! Thanks to Google and all the AirAsia All Stars for participating in this workshop!